Michigan Republicans plan to foreclose African-American voters

I agree with KAI Wright who writes, "The Republican Party has finally found the outer edge of political cynicism; it's located in Macomb County, Mich. Operatives there have figured out an upside to the foreclosure crisis roiling black neighborhoods: It enables mass voter-registration challenges and thereby offers a powerful opportunity to suppress the vote in Democrat-leaning districts."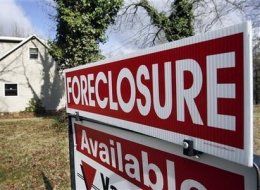 AAPP: The Michigan Messenger is one of the first groups to report on how Michigan Republicans plan to foreclose African American Voters.
The chairman of the Republican Party in Macomb County, Michigan, a key swing county in a key swing state, is planning to use a list of foreclosed homes to block people from voting in the upcoming election as part of the state GOP's effort to challenge some voters on Election Day. As The Michigan Messenger reports:

"We will have a list of foreclosed homes and will make sure people aren't voting from those addresses," party chairman James Carabelli told Michigan Messenger in a telephone interview earlier this week. He said the local party wanted to make sure that proper electoral procedures were followed.
State election rules allow parties to assign "election challengers" to polls to monitor the election. In addition to observing the poll workers, these volunteers can challenge the eligibility of any voter provided they "have a good reason to believe" that the person is not eligible to vote. One allowable reason is that the person is not a "true resident of the city or township."
The Michigan Republicans' planned use of foreclosure lists is apparently an attempt to challenge ineligible voters as not being "true residents."
One expert questioned the legality of the tactic.
"You can't challenge people without a factual basis for doing so," said J. Gerald Hebert, a former voting rights litigator for the U.S. Justice Department who now runs the Campaign Legal Center, a Washington D.C.-based public-interest law firm. "I don't think a foreclosure notice is sufficient basis for a challenge, because people often remain in their homes after foreclosure begins and sometimes are able to negotiate and refinance."nowThe Color of Change has decided enough is enough. It's not only talking about, its doing something about it.
As the Color of Change notes on its website:
It's the ugliest attack on voting rights we've seen in recent history--if you live in Michigan and you're in danger of losing your home to foreclosure, Republicans will try to take away your right to vote.1
McCain's response? Silence. Like Bush in 2000 and 2004, he's trying to keep a safe distance from these tactics, while benefiting from them. McCain could end this with a phone call. But he won't.
It's voter-suppression at its worst. They're taking advantage of folks falling on hard times and using it for political gain--kicking people while they're down. It's time to hold McCain publicly accountable for this strategy.
Will you join The Color of Change in outing McCain for not denouncing these tactics and invite your friends and family to do the same? It just takes a moment: More HERE
Now to Mississippi
It's Trent lott, Haley Barbour and the Secretary of State playing the same old bigoted and color aroused illegal games with voters.
As reported by the website southern studies.orgToday, Mississippi's state Supreme Court will hear oral arguments about whether state election officials acted improperly by putting the hotly-contested race to replace Sen. Trent Lott (R) at the bottom of the ballot.

Earlier this year, Secretary of State Delbert Hosemann -- with Gov. Haley Barbour's approval -- put the special election between Sen. Roger Wicker, a Republican, and former Gov. Ronnie Musgrove, a Democrat, near the bottom of the ballot. Democrats believe that Republicans made the decision to de-emphasize a race that shows Musgrove within shooting distance of winning.

Democratic state Attorney General John Hood says the move violated state law, which requires national elections to go at the top of the ballot. And now Democrats nationally are arguing the decision violated the Voting Rights Act, because of the risk of confusing and therefore disenfranchising voters. More HERE

"Attempts to disenfranchise any of our nation's eligible voters this November, including those in Mississippi, simply cannot be tolerated," Conyers said in a statement. "The Mississippi governor does not get to change the rules when the race is not going his way. I am asking that the Department of Justice intervene in this blatant violation of Section 5 of the Voting Rights Act."
AAPP: It looks like the Republicans are gearing up to steal yet another national election. The question is,"If and when" the election is stolen from Obama and the Democrats. What will Obama, the DNC, his supporters and for that matter the American people do? KAI Wright at The Root.com has some ideas and strategies on how to stop it. check out the article Jim Crow/the Remix.
I urge you to join The Color of Change in outing McCain for not denouncing these tactics and invite your friends and family to do the same? It just takes a moment: More HERE